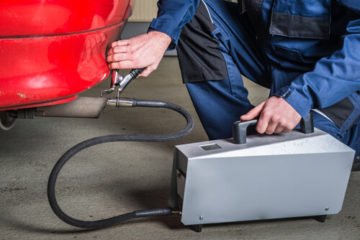 Roanoke Automotive Product Defect Liability Lawyer
Cars that have unsafe designs or have defective parts pose a serious safety hazard to drivers and passengers and other motorists who share the road. In recent years, tens of millions of cars have been recalled because of safety issues that can lead to serious injuries and deaths. Automakers have a duty to manufacture vehicles that are safe and to provide timely warnings of defects that compromise vehicle safety. Unfortunately, when manufacturers put profits ahead of safety and fail to warn of safety issues with their vehicles, serious injuries and deaths occur. Individuals who have been harmed by unsafe vehicles have a legal right to seek compensation for their injuries and other losses. But product liability cases are complex cases to pursue and require the guidance of experienced legal counsel.
Founding attorney John Lichtenstein is a recognized leader in product liability litigation and has obtained multiple recoveries of over a million dollars for our clients in cases against major automobile manufacturers related to vehicle defects. A lawyer's lawyer, Mr. Lichtenstein has been chosen as President of the Virginia Trial Lawyers Association and is a Fellow of the American College of Trial Lawyers and the International Academy of Trial Lawyers, strictly invitation-only organizations of the top one percent of trial attorneys in the United States and Canada. The Lichtenstein Law Group PLC often receives case referrals from other trial lawyers because of our firm's capacity to take on these complex, and time-consuming cases.
If you or a family member is dealing with injuries caused by an unsafe car or defective car part, you will need a knowledgeable and aggressive Virginia trial attorney to investigate your case and stand up to big automakers. Contact an experienced product liability lawyer at Lichtenstein Law Group PLC to schedule a free consultation.
How Our Roanoke, Virginia Car Defect Attorneys Fight for Your Interests
Injuries caused by defective car designs and defective auto components require both a detailed investigation and a complex analysis of how the defect resulted in a serious injury or wrongful death. Automakers have teams of lawyers who will fight to deny an automaker's liability and try to shift the blame to other causes. It is important to work with a well-established product liability trial law firm that has the resources and tenacity to pursue these difficult cases.
The trial attorneys at Lichtenstein Law Group PLC have extensive experience pursuing claims involving vehicle defects and have obtained verdicts against automakers for defects.
Our legal team is prepared to conduct a full investigation to determine how a car defect caused an injury and identify all the potentially responsible parties including the automaker, an auto parts supplier, a car dealership or a shipper. We develop the best strategy to pursue maximum compensation. Our legal team works with highly regarded product safety engineers and specialized biomechanical experts to evaluate a product defect and determine its effect on an accident.
Common Automotive Defects
Automakers recalled a record 51.2 million vehicles in 2015 in more than 850 separate recalls. Yet many cars with defective parts remain on the road.
Dangerous Airbags — Fourteen automakers have recalled 24 million vehicles in the United States with defective Takata airbag inflaters. During a collision, the defective airbag inflaters can explode with too much force and spray metal shrapnel at drivers and passengers, causing serious injuries or death. Many of the recalled vehicles have not been repaired because Honda dealers are awaiting the availability of parts to make repairs.
Faulty Ignition Switch — A defect in GM ignition switches can cause a vehicle to suddenly lose power steering and power brakes. The defect affecting a range of vehicle models from 2003 to 2011 has been linked to more than 40 deaths.
Defective Tires — A blowout or tread separation at interstate speeds can cause a driver to lose control, leading to a traffic accident and serious injuries. An alarming number of tires that have been the subject of recalls are not taken out of service and remain on the road.
Rollover Accidents — Rollover accidents are linked to many serious injuries including head injuries, neck and spine injuries and catastrophic injuries. A vehicle that has an unreasonable risk of overturning may have a defective design.
Fire Hazards — Faulty wiring that can overheat or fuel system designs that create an unreasonable risk of a vehicle catching fire may support a product liability claim.
Auto manufacturers have a legal duty to provide a timely warning of any defect in a vehicle that poses a safety hazard. The National Traffic and Motor Vehicle Safety Act says that once a manufacturer knows or should reasonably have known that a vehicle component has a safety defect, the manufacturer has five days to notify federal transportation safety officials and must then launch a recall.
At least 11 million cars and trucks manufactured by Fiat Chrysler Automobiles, including Chrysler, Dodge, Jeep and Ram brand vehicles, are currently subject to recalls as part of a civil enforcement action involving variety of defects. The automaker admitted as part of a 2015 consent decree that it failed to notify vehicle owners, dealers and the federal government in a timely fashion of the existence of defects in multiple instances. Chrysler's actions put millions of consumers and the driving public at risk, according to the National Highway Traffic Safety Administration.
Call a Virginia Automotive Product Liability Lawyer Who Investigates Car Defects
If you have been in a car accident and suspect that it was caused by a defective auto part, you need the guidance of an experienced Virginia trial attorney who can investigate the cause of the accident and identify the responsible parties. Victims of defective cars and trucks may sustain catastrophic injuries and are entitled to seek compensation for their medical bills and other losses. You can trust the experienced Virginia personal injury attorneys at Lichtenstein Law Group PLC to fight for maximum compensation for you.
Call our Roanoke Automotive Product Liability Attorneys for a Free Consultation
Whether you are in Roanoke, Charlottesville, Richmond or anywhere else in Virginia, our auto product liability lawyers are ready to assist. We will are familiar with product liability lawsuits in Virginia and will provide a free consultation to discuss the circumstances of what happened and how we can help you with your auto product liability claim.