Roanoke, Virginia Child Car Seat Defects Attorney
Child car seats are required safety equipment to reduce the risk of injury to babies and young children up to a certain size and age during a collision. But a child car seat that has a defective design or a manufacturing defect may offer only a false sense of security and fail to provide crash protection.
If your child has been injured in a collision involving a faulty child car seat, you are not alone. Talk to a compassionate attorney about your legal rights. The Virginia automotive product liability lawyers at Lichtenstein Law Group PLC have extensive experience in handling the litigation that is required to take on large corporations and seek compensation in cases involving defective products.
As an acknowledged leader in product liability litigation, firm founder John Lichtenstein has been selected as President of the Virginia Trial Lawyers Association and is a Fellow of the American College of Trial Lawyers, an invitation-only organization of the top trial lawyers in the United States and Canada. Each individual case is different, but our dedicated litigation team has secured individual recoveries in excess of $1 million for clients across many different kinds of defective products. Our interest in taking on more complicated cases and our record of success have led a number of trial attorneys to refer cases to our firm.
Millions of Child Car Seats Recalled in Recent Years
In recent years, millions of child car seat and restraint systems have been recalled by manufacturers. The reasons for the recalls range from difficult to release buckles to carry handles that break, tethers that come loose, metal locking parts that crack, and padding that poses a choking hazard. The National Highway Traffic Safety Administration maintains a searchable recall list of child safety seat makes and models subject to recall.
Manufacturers of child car seats have a legal responsibility to make products that are safe and effective when properly installed and used as directed. The products should be adequately tested to identify safety issue before being put on the market. The National Traffic and Motor Vehicle and Safety Act requires manufacturers of motor vehicle equipment to notify the government and consumers if the manufacturer discovers a defect and determines that it affects vehicle safety. Unfortunately, manufacturers often are slow to admit having a defective product and announce recalls only after serious accidents have occurred and children have been injured or lost their lives.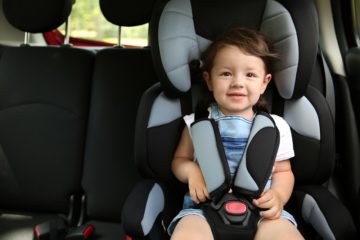 In 2014, the National Highway Traffic Safety Administration (NHTSA) pressed manufacturers to recall more than 7.4 million defective child and infant car seats. Under pressure from the NHTSA, one manufacturer, Graco Children's Products, Inc., recalled more than 4 million convertible and booster seats with defective harness buckles in February 2014 and and an additional 2 million rear facing seats in June 2014. The seats had defective buckles that could become stuck in the latched position, putting a child's life at risk in an emergency. It was the largest car seat recall in U.S. history. The federal government fined Graco $10 million for failing to provide timely notification of the defective buckle in millions of car seats.
In January 2016, the Consumer Product Safety Commission and Britax announced the recall of Britax B-Safe 35 and B-Safe 35 Elite infant car seats and travel systems due to a fall hazard. The product can be used as a rear facing seat or infant carrier. Britax has received 74 reports of the handles cracking and breaking, allowing the seat to fall unexpectedly and posing a risk of injury to the baby. The recalled seats were manufactured between October 1, 2014 and July 1, 2015.
Graco and Britax are by no means the only manufacturers to have recalled defective child car seats. Many models of child and infant car seats and boosters seats produced by multiple manufacturers have been recalled in recent years.
Virginia passenger safety laws require that children under eight years of age be secured in a child safety seat or booster seat, regardless of the child's height or weight. Parents should be able to trust that the car seats they purchase to protect their children are safe. It is important to use a child safety seat that has a known history and is not the subject to a recall. Do not re-use a child seat that has been in a vehicle during a collision that caused more than minor damage. The seat may no longer provide optimal protection.
When manufacturers fail to meet their legal obligation and their negligent actions cause injuries, the manufacturers should be held accountable. A family that has been harmed by a defective car seat may seek compensation for medical bills, pain and suffering and other damages. A lawsuit can focus attention on a serious safety issue with a child seat and prevent other families from going through a similar ordeal.
How Can a Virginia Defective Car Seats Lawyer Help You?
Cases involving defective products are extremely complex and you want a law firm that has had experience and success in pursuing this type of litigation. The product liability attorneys at Lichtenstein Law Group PLC will conduct a thorough investigation to determine what type of negligence caused the injury – whether it was a a breach of warranty, a lack of adequate warning of hazards, or a failure to take proper precautions during the manufacturing process.
We will identify all the parties that may be held potentially responsible and develop a strategy to pursue the case. We will collect evidence about the defective product and hire highly credentialed expert witnesses who can speak to technical issues involving product defects and how the problem occurred. We are selective in the cases we accept and we prepare each case thoroughly as if it is going to trial.
Our trial attorneys are dedicated to pursuing maximum compensation for the harm that your family has suffered. Our firm's reputation as aggressive trial attorneys works to the advantage of our clients. Insurance companies representing product manufacturers are more willing to negotiate just settlements to avoid the expense and uncertainty of a trial.
Discuss Your Case with Our Virginia Product Liability Trial Lawyers Now
From the moment that your child is injured by a defective product, the clock begins ticking on the time you have to make a claim. We are sensitive to the fact that many parents may feel overwhelmed after a serious accident in which a child was injured. Let the dedicated Roanoke injury lawyers at Lichtenstein Law Group PLC review the details of your injury and explain your legal options. There is no charge for the initial consultation.
Our product liability litigation team has extensive experience researching, investigating, and preparing these types of cases for trial. We can gather evidence, deal with insurance companies and prepare your unsafe car seat case for trial so that you can focus on your child's recovery. To discuss your options for filing a claim, schedule a free consultation with us today by calling or filling out our online form.